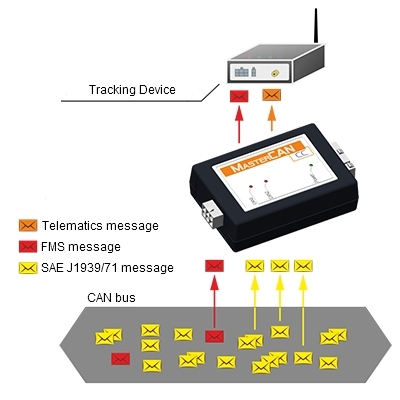 Modern commercial vehicle has dozens of electronic equipment on board (on-board units). CAN bus (SAE J1939) or J1708 (SAE J1587) is used for data exchange between on-board units. Some part of these data is useful for fleet performance efficiency analysis. The task of telematics system – gather and process the data, transfer it to a web-based telematics service.
Role of MasterCAN vehicle data interface within vehicle telematics system – filtering out excess messages, collecting useful for vehicle telematics information: instant and trip fuel consumption, total fuel consumption, RPM, fuel level, engine temperature, oil pressure, etc.
MasterCAN allows to avoid manual parsing of CAN/J1708 bus messages, reduces load on CAN-port of telematics unit, speeds up telematics system configuration and launch.
Tasks
Continuous data reading of CAN bus (SAE J1939) and J1708 bus (SAE J1587)

Selecting and arranging CAN parameters into messages (PGN) easy to read and process by telematics unit (GPS tracker)


Data translation from CAN/J1708 to CAN, RS-232, and RS-485 output messages

Generating special Telematics messages, which contain the most essential telematics information










Integration of automobile CAN bus into transport telematic systems
The purpose of MasterCAN products is integration of automobile CAN bus and elements of transport telematics systems.
MasterCAN in combination with Crocodile is also a convenient solution for data gathering from sensors and peripheral devices of one or several onboard CAN (J1708) buses and data transfer to CAN j1939/S6 Telematics interface. This allows to monitor various Vehicle operation parameters via just one CAN-port of telematics terminal.
Advantages of MasterCAN
easy integration with fleet telematics systems

comply with national and European automobile standards

less terminal customization time due to filtering of unnecessary data

simple installation with contactless readers CANCrocodile and 1708Crocodile

safe data integration from one or several onboard information buses to CAN/S6 Telematics interface

automatic trip fuel consumption counter, incremented by hourly fuel consumption rate from onboard CANbus

power supply from the vehicle onboard power supply system without any additional power supply units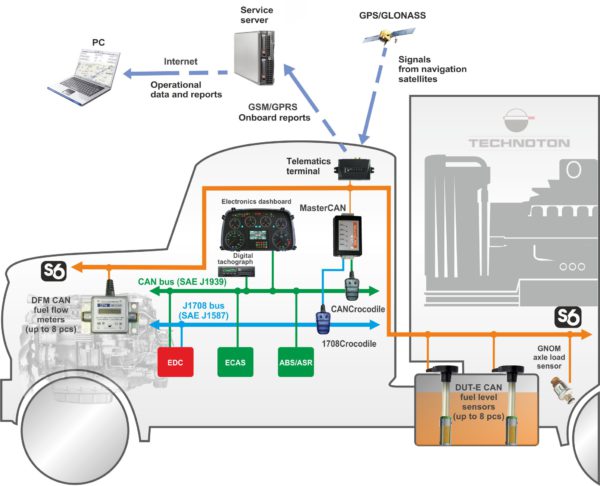 MasterCAN devices are intended to put the operation of telematics terminals with CAN input to a qualitatively new level and allow you to:
safe data readout of automobile CAN bus

organization of telematic CAN bus with maximum needed dataset

intelligent combining of several CAN buses

signal reception of analog sensors, their digital conversion and transmitting to the CAN bus

identification of the necessary information inside the CAN bus and its transmitting over interfaces that are available in telematic terminal (analog, RS-232, RS-485)
In CAN bus there are arrays of information that has a great value for the transport telematic systems. Data about vehicle technical status and operation that are collected and processed by the MasterCAN devices can be very useful for the manager who is eager to optimize costs and increase efficiency of the vehicle fleet.
| | |
| --- | --- |
| Supply voltage, V | 10…45 |
| Current consumption (24 V/12 V), mА, not more than | 50/100 |
| Operating temperature, °С | -40…+85 |
| Level of casing protection | IP40 |
| Dimensions, mm, not more than | 94.5х58.5х24.5 |
| Weight, kg, not more than | 0.15 |
MasterCAN filters data from digital buses of a vehicle and forms messages that contain the most essential vehicle operation parameters for fleet telematics systems. MasterCAN with CAN 2.0B output interface transmits FMS messages without changing them and forms Telematics messages. Telematics include the following parameters:
engine speed

instant fuel consumption

trip fuel consumption

engine temperature

oil pressure

engine torque

coolant level

oil level

fuel level

used fuel

oil level

coolant level
MasterCAN modifications:
MasterCAN CC for receiving data from onboard CAN j1939/S6  interface, converting received data and sending created FMS and Telematics messages to CAN j1939/S6 interface;
MasterCAN C 232/485 for receiving data from onboard CAN interface, converting received data and sending created messages to RS-232 Modbus and RS-485 Modbus interfaces;
MasterCAN V-GATE for receiving data from onboard CAN and J1708 interfaces simultaneously, converting received data and sending created FMS and Telematics messages to CAN j1939/S6 interface and messages to RS-232 Modbus interface.
Name

MasterCAN CC

MasterCAN C 232/485

MasterCAN V-GATE

Image

Input Interface (protocol)

CAN (SAE J1939)

CAN (SAE J1939)

CAN (SAE J1939) и

J1708 (SAE J1587)

Output Interface (protocol)

CAN 2.0B (SAE J1939)

RS-232 и RS-485

(ASCII/Modbus/DUT-E COM (extended LLS))

CAN 2.0B (SAE J1939) и

RS-232 (ASCII/Modbus/DUT-E COM (extended LLS))