J1939 i/o module MasterCAN DAC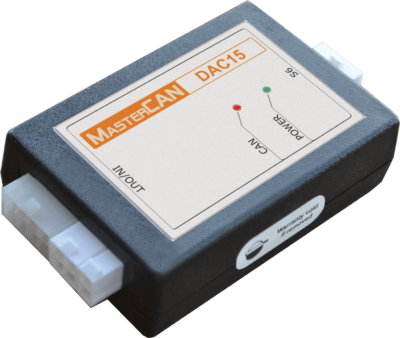 MasterCAN DAC15 – is smart tool for GPS/GLONASS vehicle monitoring systems,  where analogue on-board equipment is used along with digital CAN/S6 equipment.
MasterCAN DAC15 used for converting:
1) Digital data (SPN) of automotive interface CAN/S6 to analogue inputs of telematics terminal or dashboard.
2) Analogue output signals of automotive sensors to CAN/S6 ports of telematics terminal.
Tasks
Vehicle operation monitoring according to data from standard, additional and attachments equipment:
data transmittion from analog sensors to the CAN input of the telematics terminal and/or dashboard
data transmittion from standard CANbus and telematic sensors with CAN/S6 interface to analog dashboard and/or telematics terminal with analog inputs
Application of MasterCAN DAC15












Advantages of MasterCAN DAC15
Complies with European automotive industry standards

Compliance with units, database and cabling system S6 Technology

IoT Burger Technology provides internal data processing (parameter filtration and normalization, events logging, counters recording) for easier server operation and data traffic saving

Increases quantity of vehicle parameters monitored through CAN j1939/S6 by converting output signals from analogue sensors to  telematics interface

Connects safely to standard on-board CANbus through CANCrocodile contactless reader

Integrates converted data of CAN j1939/S6 automotive bus to telematics system when terminal equipped by analogue inputs is used

Ensured compatibility with majority of telematics terminals and dashboards through possibility of output signal setting and adjustment

Power-supplied by on-board electrical system of vehicle – does not require external power sources
Converting CANbus data to analogues signals
MasterCAN DAC15 converts digital data (SPN) automotive CANbus (SAE J1939) to various types of analogue signals (voltage, frequency, pulse, current, discrete, resistive) for further transfer with data logging devices having correspondent analog inputs.
MasterCAN DAC15 combined with CANCrocodile contactless reader can be used as an out-of-the-box solution for integration of vehicle CAN bus essential data into vehicle telematics system through analog inputs of the tracking device.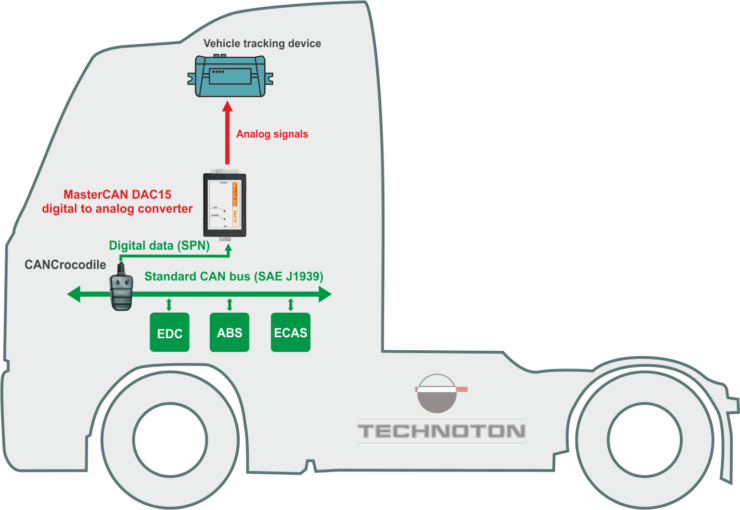 MasterCAN DAC15 used with DUT-E CAN fuel level sensor is a ready solution for accurate fuel volume measurement in vehicle's fuel tank and volume indication on a standard vehicle's dashboard.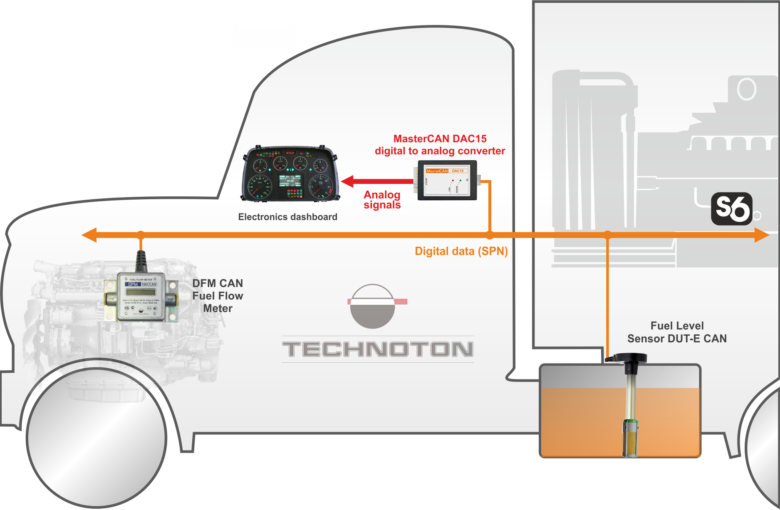 Converting GNOM axle load sensors' analogue signals to CAN/S6 Telematics Interface data
MasterCAN DAC15 converts analog signals of vehicle sensors into digital parameter values (SPN) of CAN (J1939) bus for further transfer with data logging devices having CAN interface port.
MasterCAN DAC15 is useful for data accumulation and analog signal transformation of GNOM DDE  axle load sensor for transfer of converted parameters (SPN) into telematics bus CAN/S6.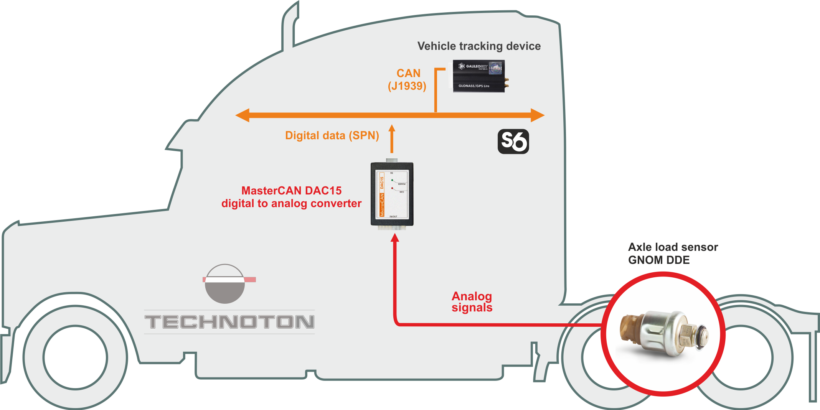 Fuel Gauge. Monitoring of fuel using standard fuel level sensor in fuel tank
For vehicles where fuel level data is not available from CAN bus

Converts analog signal of vehicle's standard fuel level sensor into digital data (SPN) as per SAE J1939

Saves tank calibration table in internal memory, for higher accuracy of fuel volume measurement

Combined operation with FMSCrocodile allows transfering FMS data to telematics unit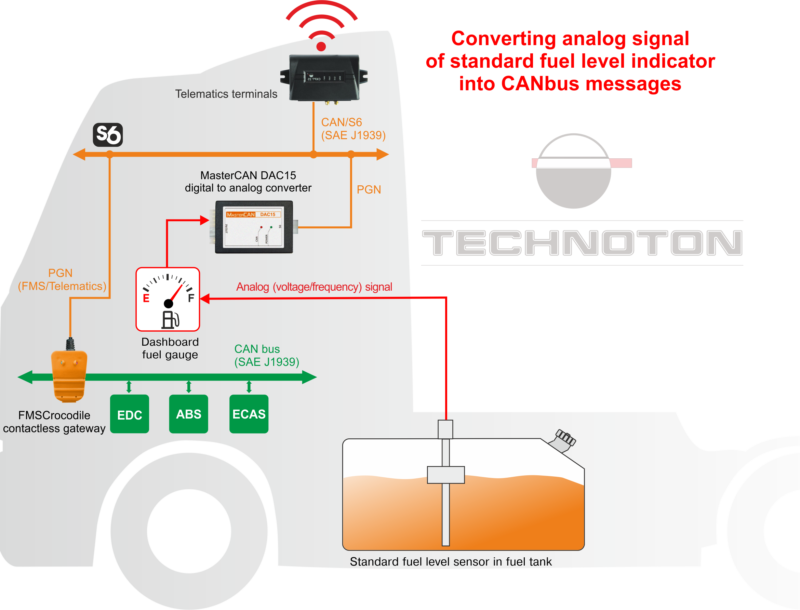 | | |
| --- | --- |
|  Parameter |  Value |
|  Power supply range, V |  9…45 |
|  Current consumption at 12/24 V, mА |  not more than 100/50 |
|  Ambient operation temperature range, °С |  -40…+85 |
|  Ingress protection rating |  IP40 |
|  Overall dimensions, mm, not more than |  95.5х58.5х24.5 |
|  Weight, kg, not more than |  not more than 0.1 |
|  CAN bus communication interface |  CAN j1939/S6 |
 Analogue input
 Value

 Voltage, V

 0.5…9

 Frequency, kHz

 0.01…10

 Analogue output

 Value

 Voltage, V

 0.5…9

 Frequency, kHz

 0.01…10

 Pulse

  amplitude 0.5…9 V




  duration 40…250 ms

 Current, mA

 4…20

 Discrete 1, V

 0 (level 0)/U*PS (level 1)

 Discrete 2, V

 0 (level 0)/10 (level 1)

 Resistive, kOhm

 0.015…50

 * UPS  — voltage of vehicle power supply source
MasterCAN DAC15 is configured with a special software utility Service S6 MasterCAN and  S6 SK service kit via K-Line (SAE 14230) interface.
Digital-to-Analog gate mode provides settings of MasterCAN DAC15 analog outputs according to parameters (SPN) received from vehicle CAN bus messages (PGN).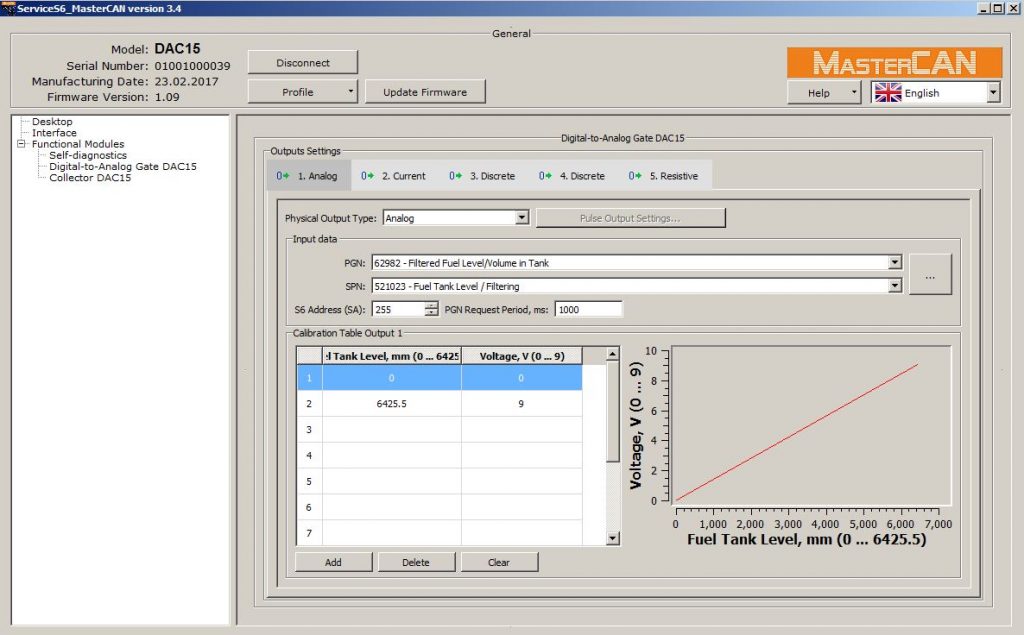 The list of priority SPN for MasterCAN DAC15 contains most important vehicle operation parameters from vehicle telematics point of view:
fuel level and volume of the fuel tank;
temperature (oil, fuel, coolant, ambient, etc);
pressure (oil, fuel);
fuel consumption;
engine RPM;
speed;
power supply voltage;
axle load and etc.
Collector mode provides parameter settings (SPN) of output PGN messages of MasterCAN DAC15 according to received analog input signal.