Wireless fuel level sensor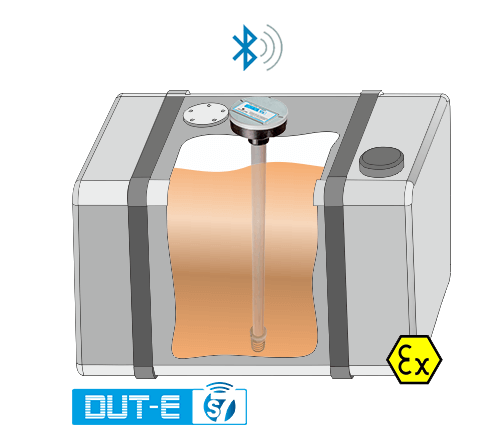 DUT-E S7 wireless sensor allows to measure current fuel volume and its changes in a fuel tank. DUT-E S7 is used as a part of vehicle telematics system (GPS vehicle tracking system) and provides reliable information on remaining fuel volume, fuel tank fill-up and draining volumes and helps fleets to set up clear fuel accounting and prevent fuel theft from vehicle's tank. DUT-E S7 wireless fuel level sensor is also used for fuel level monitoring in stationary tanks.
Wireless data transfer is carried out using S7 Technology via BLE channel. BLE signal from DUT-E S7 can be received by compatible vehicle tracking unit (telematics unit) and/or any Android device.
DUT-E S7 can also be used as a "night watchman" to alert driver on fuel theft from vehicle's tank, for example, when resting at night parking.
 Monitoring of tank refuelling and fuel draining

Fuel theft prevention

Fuel consumption monitoring
wireless data transfer using S7 Technology via BLE (Bluetooth 4.X Low Energy);
operation in BLE-radio mode without pairing with receiver – simultaneous data transfer to telematics unit, smartphones, tablets with Bluetooth
built-in battery – DUT-E S7 works without external power supply;
very low power consumption allows autonomous operation of sensor within 5…10 years;
explosion protection confirmed by "On the Safety of Equipment for Operation in Explosive Environment"
No cable
Explosion- and fire-safety of sensor.
No cable
Quick installation of sensor and telematics unit.
No cable
Increased resistance to vandalism.
DUT-E S7 has all the advantages of "classical" DUT-E fuel level sensor models:
shortening/extending length of measuring probe;
bottom spring for higher rigidity of mounting into tank;
screen filter for probe protection from water and mud in a tank;
digital self-diagnostics feature for sensor operation quality check;
automatic temperature correction with adjustable coefficient;
automatic compensation of ambient temperature effect on sensor's parts.
holes for sealing sensor in order to avoid unauthorized dismounting;
bayonet mounting plate allows to reduce mounting time;
ergonomic grooves for comfortable grip when fastening in bayonet mounting;
full set of mounting accessories;
conformity with European and national automotive standards.
Fuel Tank Monitor smartphone app
Fuel Tank Monitor app is used for displaying accurate fuel level, volume, temperature and notifications on fuel tank fill-up or fuel draining from tank. All settings for particular DUT-E S7 sensors are stored in the app and can be exported / imported to another device.
Driver

Checking fuel volume refill at gas station; Quick check of current fuel volume in tank; Getting alarms on fuel theft from tank.
Fleet manager

Checking and recording fuel volume in vehicle tank when transferring vehicle from one driver to another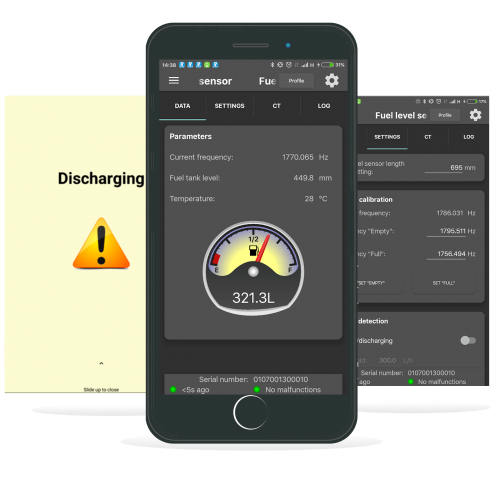 Fuel Tank Monitor app features:
displaying information about the sensors (serial number, firmware version, address within S7 network);
saving and uploading sensor profile to / from other android devices;
keeping fuel level sensor' "Empty" / "Full" calibration parameters;
keeping fuel tank calibration table;
display notifications on fuel tank fill-up / discharging;
fuel level sensor self-diagnostics information;
data logging from DUT-E S7 fuel level sensor.
Fuel level sensor operating principle
Capacitive
Wireless data transfer interface
Bluetooth 4.1
Tx Power, dBm
+4
Rx sensitivity, dBm

-88

Maximum distance between sensor and receiving device, m
10…20
(when mounted on a vehicle or inside a building)
up to 50
(when mounted within line-of-sight)

Number of BLE-compatible device receiving signal simultaneously
Any number in DUT-E S7 transmitter's operation range
Data transfer interval, s

 5

Estimated lifetime of the sensor (battery life), years
от встроенной батареи, лет
5…10*
Temperature range, °C
-30…+80
BLE module activation
DUT-E S7 has the following 3 modes of operation, which are defined by BLE-module state:
"Safekeeping" — in this mode DUT-E S7 is kept from the date of production. BLE-module of the sensor is deactivated, no signal is sent;
"Technological" — limited functionality mode, enabled only for serial number and firmware version check through S7 app.
To activate Technological mode, touch sensor head's cap with permanent magnet (see figure 9 a). After 4 hours or after re-touch of cap with the magnet, BLE-module of the sensor will switch back into Safekeeping mode.
"Working" – full functionality operation mode of DUT-E S7. "Working" operation mode is enabled when installing the sensor into a fuel tank. After enabling this operation mode, it becomes possible to adjust configurations related to a particular sensor and monitor its values using Service DUT-E S7.
In "Working" mode, BLE-module of DUT-E S7 becomes active for the remaining lifetime of the sensor without possibility of switching to any other mode.
To enable "Working" mode, small screwdriver and permanent magnet should be used. A screwdriver should touch both tubes (i.e. make a short circuit of measuring probe) and permanent magnet should touch sensor head's cap.