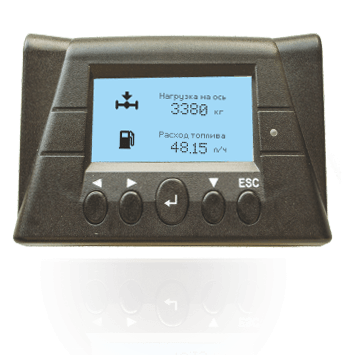 MasterCAN Display 35 is designed for visual monitoring of operating parameters of vehicle or stationary object. Display 35 receives and parses data from CAN j1939/S6 interface and standard vehicle T-CAN bus. Two analog inputs allow to connect voltage/frequency devices – standard or additional sensors like axle load sensor.
Display 35 allows to monitor operation parameters on board:
fuel level in tank;
instant fuel consumption, total fuel consumption;
total operating time, operation in optimal and overload engine modes;
parameters from additional equipment;
voltage and condition of electrical equipment.
Technologies










MasterCAN Display 35 within Telematics system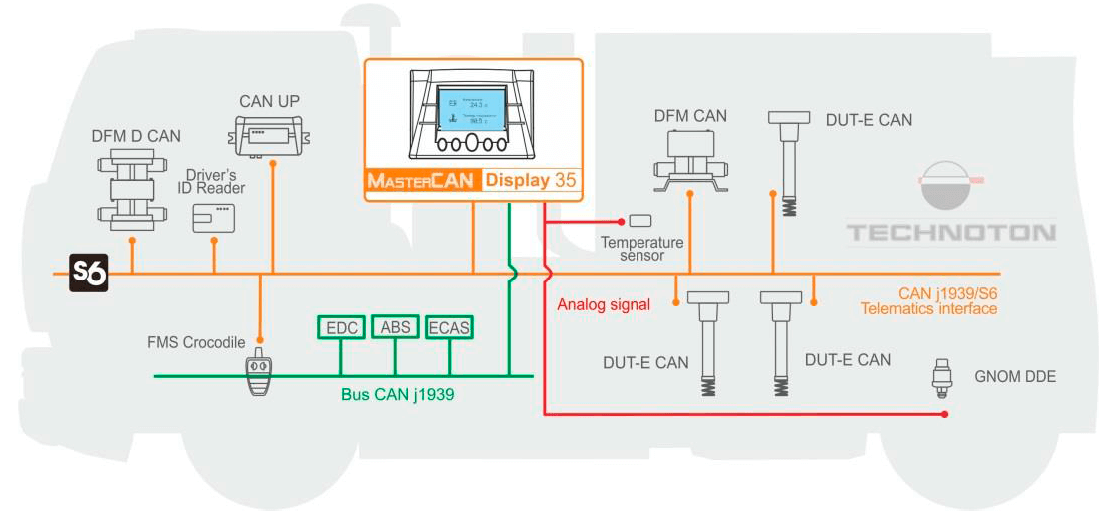 MasterCAN Display 35 features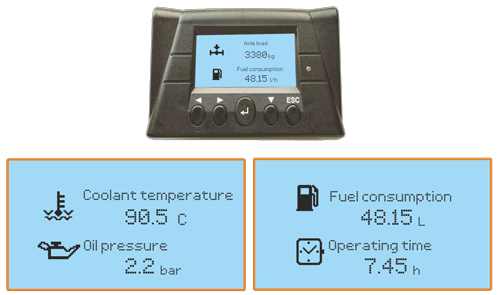 Displaying parameters from CAN bus and additional sensors.
MasterCAN Display 35 receives and displays current values of: standard CAN bus; additional sensors by CANj1939/S6 interface and two voltage or frequency inputs. Сhoice from 3500+ parameters.
Flexible screen configuration
MasterCAN Display 35 can show up to 21 group, 10 screens in each group, 1 or 2 parameters on each screen. Models of MasterCAN Display 35 "Truck", "Tractor" and "Vessel" have preset screens with most suitable operating  parameters. (See table bellow).
Configuring Display Options
Each parameter can be assigned a specific name in accordance with the terminology adopted for a particular type of technology or fleet standards. Each parameter can be assigned a unique "icon" – a graphic symbol for quick identification of a parameter.
Installation of a wireless axle load sensor in the air suspension
3000+ parameters from standart CAN bus
engine operating time, engine speed;
coolant and oil temperature,oil pressure;
power unit operation;
hydraulic system operation;
pressure in the pneumatic system;
transmission parameters.
500+ parameters from CAN j1939/S6 interface
fuel level and volume in tank via DUT-E;
instant and trip fuel consumption;
fuel consumption in various operation modes via DFM;
total engine operating time and engine operating time by modes via DFM .
Two voltage/frequency inputs
axle load sensors;
engine speed sensors;
temperature sensors.
| | | |
| --- | --- | --- |
| G | Truck. Level sensor in tank, fuel consumption, engine operatng time via CAN, speed, operating time, axle load. 26 pre-set screens. | Download |
| T | Tractor. Fuel level in tank, fuel Consumption, engine operating by CAN bus, machine hours. Preset screens (27 screens, two parameters on screen). | Download |
| M | Vessel. Control of fuel in the tank, generator's and boiler's engine fuel consumption. Preset screens (37 screens, two parameters on screen). | Download |
| U | Universal. Model with extended user rights for configuring screens. Displaying any of 3500+ operation parameters. Flexible adjustment of  number of screens (21 groups, 10 screens in each).Configuration displayed parameters (1 or 2 on one screen, change parameter names and icons). | Download |
| | |
| --- | --- |
| G | Truck. Level sensor in tank, fuel consumption, engine operatng time via CAN, speed, operating time, axle load. 26 pre-set screens. |
| T | Tractor. Fuel level in tank, fuel Consumption, engine operating by CAN bus, machine hours. Preset screens (27 screens, two parameters on screen). |
| M | Vessel. Control of fuel in the tank, generator's and boiler's engine fuel consumption. Preset screens (37 screens, two parameters on screen). |
| U | Universal. Model with extended user rights for configuring screens. Displaying any of 3500+ operation parameters. Flexible adjustment of  number of screens (21 groups, 10 screens in each).Configuration displayed parameters (1 or 2 on one screen, change parameter names and icons). |